About Ishikari Bay New Port Authority

Greeting from the President
About Ishikari Bay New Port Authority

Greeting from the President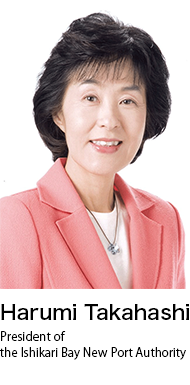 Greeting from the President
Ishikari Bay New Port is located on the Japan Sea roughly midway up the Ishikari Bay coast. It is the gateway to the sea for the Sapporo area, which is the heartland of Hokkaido's economic activity.
Since the first ship entered back in 1982, there has been a steady increase in the volume of cargo going through the port, and it has steadily developed as the international distribution base for Hokkaido's Japan Sea coast.
The port has become a valuable piece of social infrastructure that supports Hokkaido's economy and the livelihoods of its residents: in addition to the commencement of regular container routes to and from East Asia, and the port's evolution as a base for energy transport, more than 700 companies have set up bases in the Ishikari Bay New Port Zone which has been developed in the surrounding area.
In recent years, the Ishikari Bay New Port has been looked to as an export base for Hokkaido-grown foodstuffs, for which demand is predicted to grow stronger overseas, and we shall actively work to make the port even easier to use so that it can develop as a base for economic exchange both with other regions on the Japan Sea coast as well as with other countries.