About the Port

Natural Environment
About the Port

Natural Environment
Climate
The climate of the Ishikari Bay area is relatively warm for the Hokkaido region, which experiences severe winters.  Fine weather and moderate rain is common in spring and fall, summer is comfortable, and in winter the snow accumulates to approximately 130cm at most.
The wind direction is usually southeast to east-southeast in summer and northwest to west in winter.
Year / Period
Temperature (℃)
Precipitation (mm)
Average wind speed (m/s)
Snowfall (cm)
Average
High
Low
Max. daily snowfall
Max. snow accumulation
2012
8.1
32.6
-19.5
1,037.0
2.7
34
152
2013
8.0
32.7
-18.6
1,134.0
2.7
29
179
2014
8.0
32.4
-21.3
902.5
2.7
39
156
2015
8.7
33.8
-16.3
897.0
2.6
34
161
2016
8.1
32.0
-16.4
1,122.0
2.9
30
92
10-year average
8.2
32.1
-17.5
992.7
2.7
33
126
Source: website of the Japan Meteorological Agency
Maritime Conditions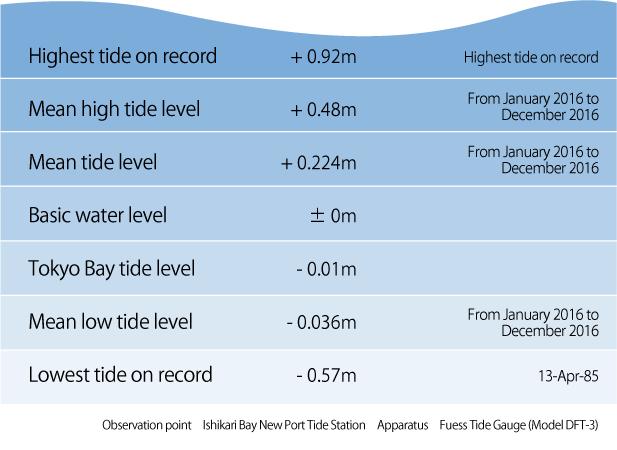 Ishikari Bay New Port has a tide station which performs harmonic analysis to establish the tide levels.
The port's reference plane for construction is the same as the basic water level shown on the tidal chart, and is 0.01 meters higher than the tide level in Tokyo Bay, etc.
In addition, the direction of currents near the surface are to a certain extent affected by the winds, and have a strong tendency to move northward in summer and southward in winter.
High waves are caused by two main reasons: low air pressure passing northward over the Japan Sea, and blowoff from belts of high air pressure on the continent, primarily in winter.
The most common wave direction is northwest, at an incidence of 30%, followed by north-northwest, at an incidence of 20%.
Significant wave height is within 1 meter about 60% of the time.  The sea is very calm in summer, when that proportion rises to about 90%.
The biggest wave ever recorded was in February 1994 when a wave of 11.6m was observed with a period of 11.7 seconds.